HOME PAGE BIO STUDIO PICTURES PERFORMANCE RÉSUMÉ THOUGHTS ON SINGING
<![if !vml]>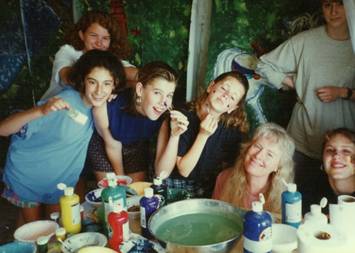 <![endif]>
I am a physical therapist and mother of three. I have had the pleasure of knowing Sarah Oppenheim Beggs for over three years in the capacity of voice teacher for my daughters age 14 and 16.

We have found her to be an exceptional teacher. Her approach is balanced and sensitive, and draws from a wide knowledge base. She is always enthusiastic and positive exhibiting a true love of what she does. Our girls are extremely comfortable in her presence finding her to be an approachable, kind and caring person. She is able to beautifully tailor instruction to each girl's individual needs and patiently brings out the best each has to offer.

We were very sad that she when she left Maui one year ago but understood and admired her need to move to where she could further her own learning and accumulation of experience. We have been able to continue lessons via skype since then and we feel blessed that Haley and Erica continue to have the opportunity to work and learn with such a wonderful individual. - Dawn J.
Sarah is an amazing teacher, with wisdom that goes well beyond singing instruction. Sarah taught me from my time in middle school through high school. With Sarah, I have learned about voice and life. She helped me during my most formative years and stands out as a teacher, mentor, and friend who truly made a difference in my life. I plan to have my son study voice with Sarah when he is a bit older, just as I, my brother, and my sister studied with her. So I guess you can say she is a family tradition. The type of family tradition that leads you to carry a tune and love opera (me), study at Berkelee College of Music and have recording deals (my brother), and have that kind of singing voice that stops crowds (my sister). I cannot wait for the next chapter! - Karen G P
How can I even begin to express my love, admiration and appreciation for Sarah? I have known Sarah for 15 years. My older sister started taking voice lessons with her when she was in middle school & I when I was old enough I began vocal training with her as well. Our youngest sister was only able to enjoy Sarah's teachings for a short time before Sarah and her husband moved their lives to Maui. I am so glad that they are back and that Sarah is teaching in California again. Not only is Sarah an extremely talented singer herself, but she has the unique ability to pass her wisdom of singing on to individuals with delicate understanding & graceful professionalism. She is extremely nurturing and kind, smart and witty, & takes special care with each student to help hone their gift as an individual. Even though my sisters and I all took lessons with Sarah, she treated us and our voices with individual perspective and never once compared us to one another. I have always been lucky to call her a dear friend as well as my vocal couch. I highly recommend seeking her skills. She is wonderful! - Mrogan C.
Sarah Oppenheim Beggs is an experienced, thoughtful and nurturing voice teacher whose care and wisdom has helped my teenage daughter grow her confidence, vocal range, vocal repertoire and body/voice awareness. -Carolee Fucigna


…patience, support and mentoring! -Jaimie Lowe


My success as a music student, and continued curiosity about music would never exist without such an outstanding instructor. -Courtney Limcaco
…A teacher, friend, life advisor and mentor.Thank You!
-Kathryn Sullivan
We appreciate Sarah's goodness, spirit and grace!
-Laurie Lerner
Sarah has a way of finding the hidden talent in each singer and bringing it out for the world to hear. She has an amazing rapport with her students and finds the time to listen and learn about their interests. Sarah treats each student with respect. She also enjoys seeing them shine on stage! -Maureen Goldrath